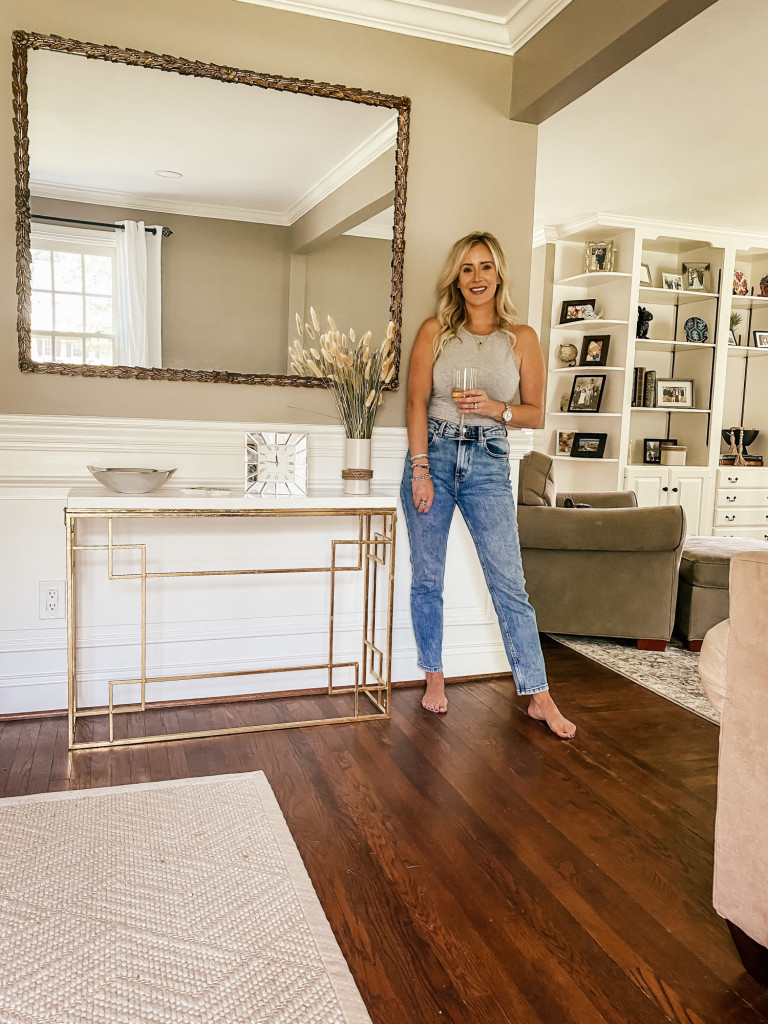 Welcome to our home! This post is long overdue and just on time –  our construction project finally finished up about 8 weeks ago and took this long to have my house all cleaned up and ready for photos! A four year old and a 20 month old can trash the place in roughly 25 seconds flat!
If you're new around here, my husband and I bought a home about 3 years ago that we knew would need work. *I think* we are finally DONE with our updates on the first floor! The house is on a beautiful street with a beautiful yard (not to mention literally the BEST neighbors) so we knew we were willing to live with the choppy 1960's feel for a while!  I actually really recommend anyone remodeling their home to actually LIVE in their home before demo-ing it.  We learned what we wanted by living in it and were able to adjust things we thought we may need after really getting to know the flow of the house.
With that being said – one of the first items was knocking down the wall between the dining room and the family room! We rarely used the dining room, except for holidays and it started to turn into an overflow storage room. Not ideal since it's right off of the front door!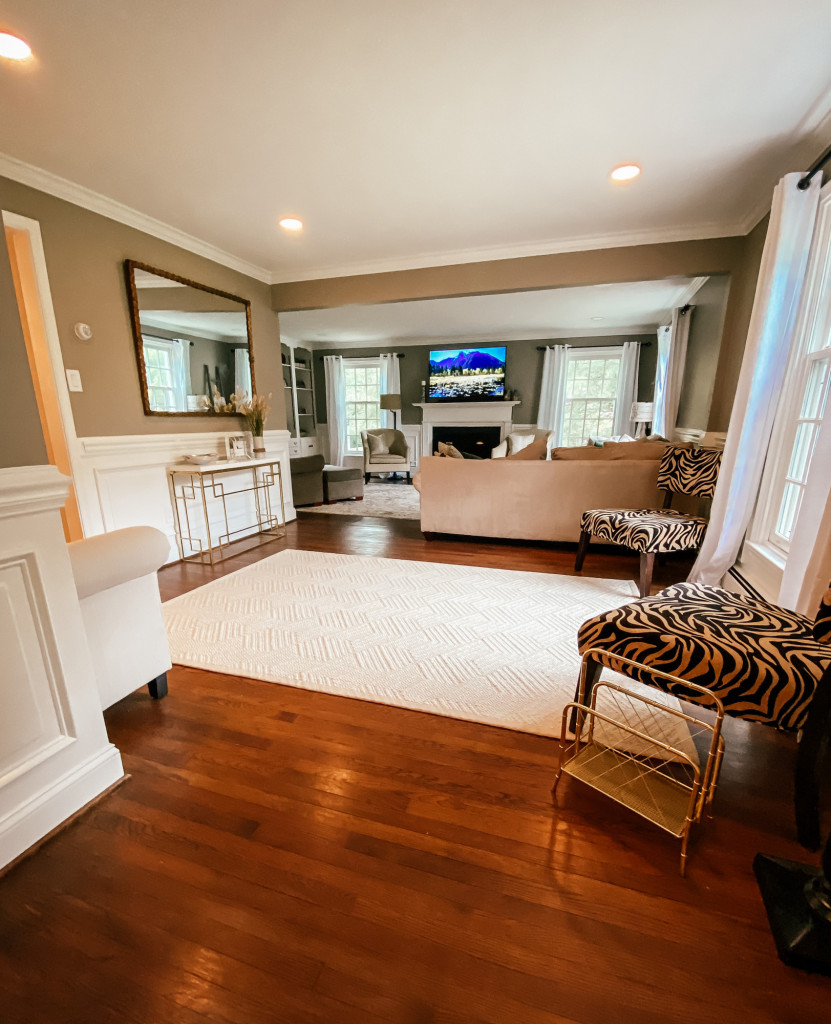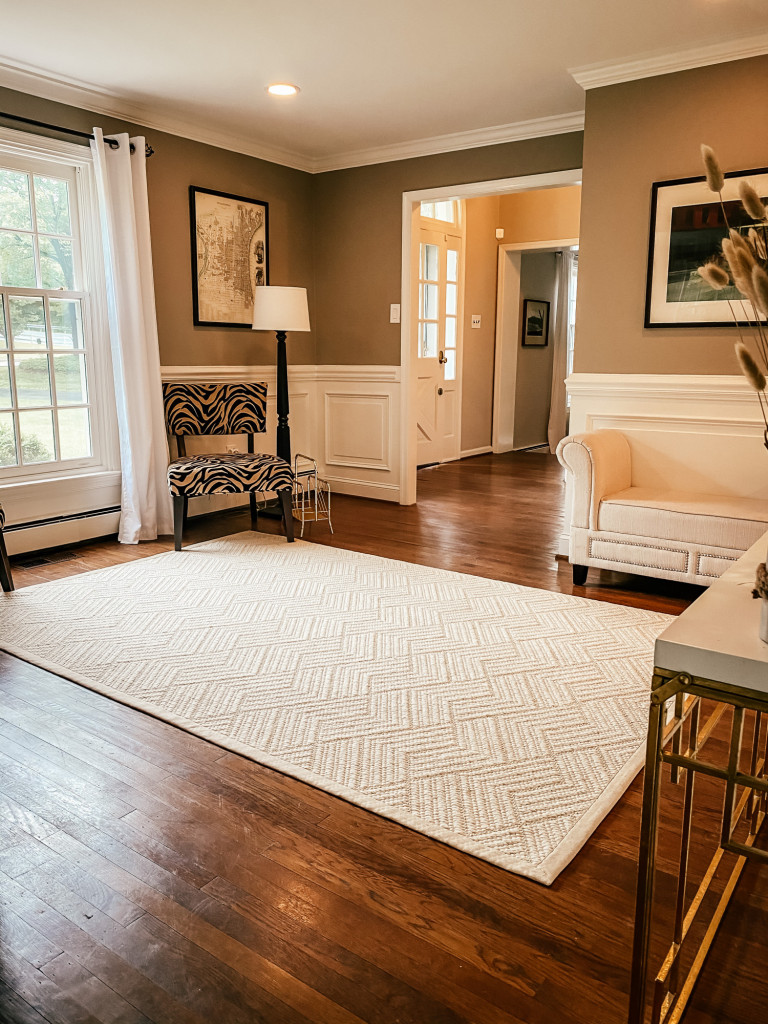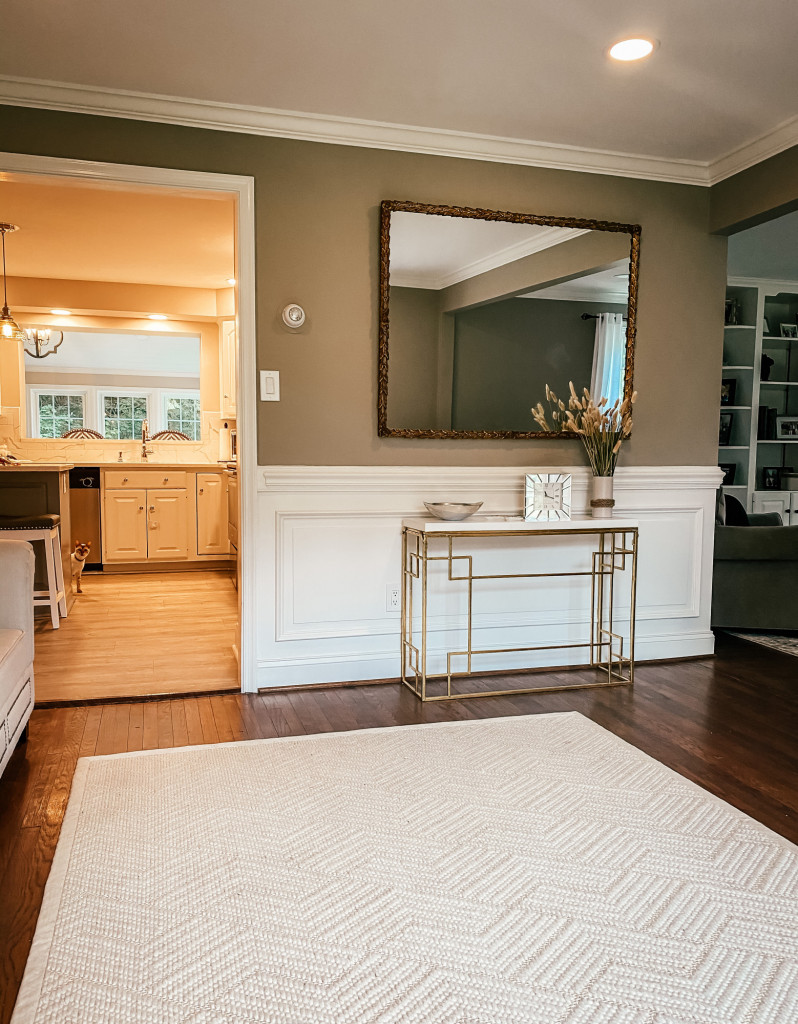 One of the amazing benefits of knocking the wall down is the light that comes in from the front door! I didn't realize it then, but our family room was dark, and felt cut off from the rest of the house.  I was talking to my friend, Kate, who recently completed construction on her home and she said her house was like a game of Choose Your Own Adventure every time you entered a new room in the house. 😉  When she said that I had a YES, THAT'S IT moment,  I guess the 1960's had a thing about small enterways and closed off rooms?!
Here are the pics of our family room, right off of the old dining room as seen above.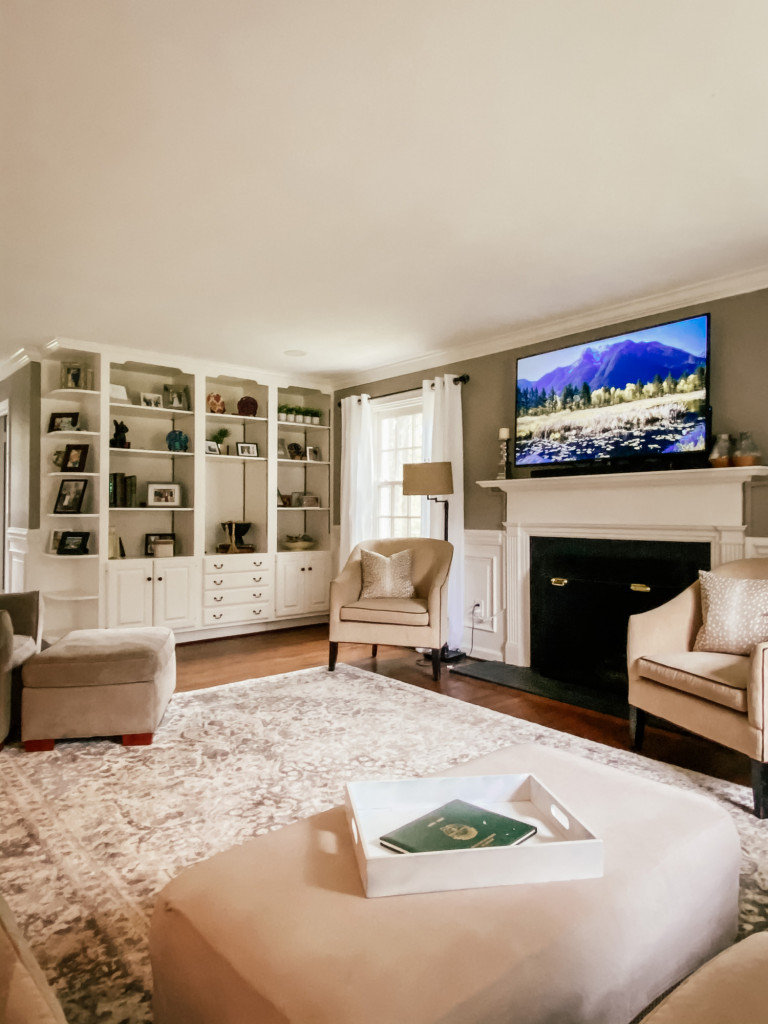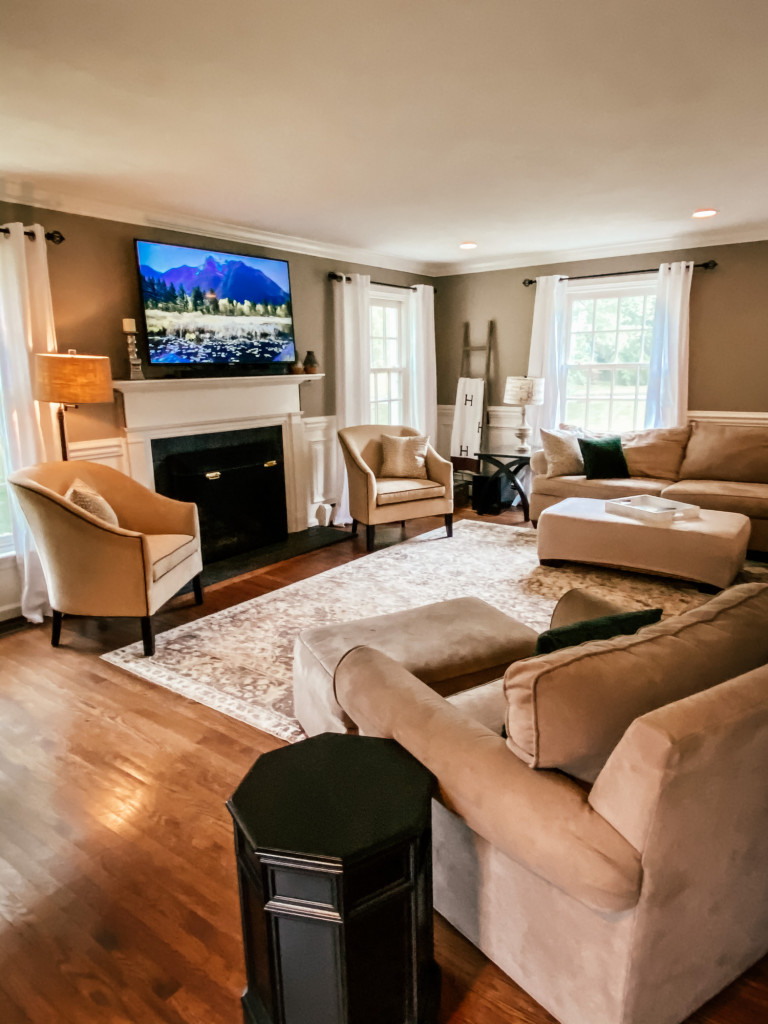 While we were in the family room we decided we could use to refresh our powder room as well. I am SO happy we did because if we chose to leave it and deal with it later it would have seemed really out of place with the rest of the house. We did new flooring, paint, lighting and sink and it really changed the whole look!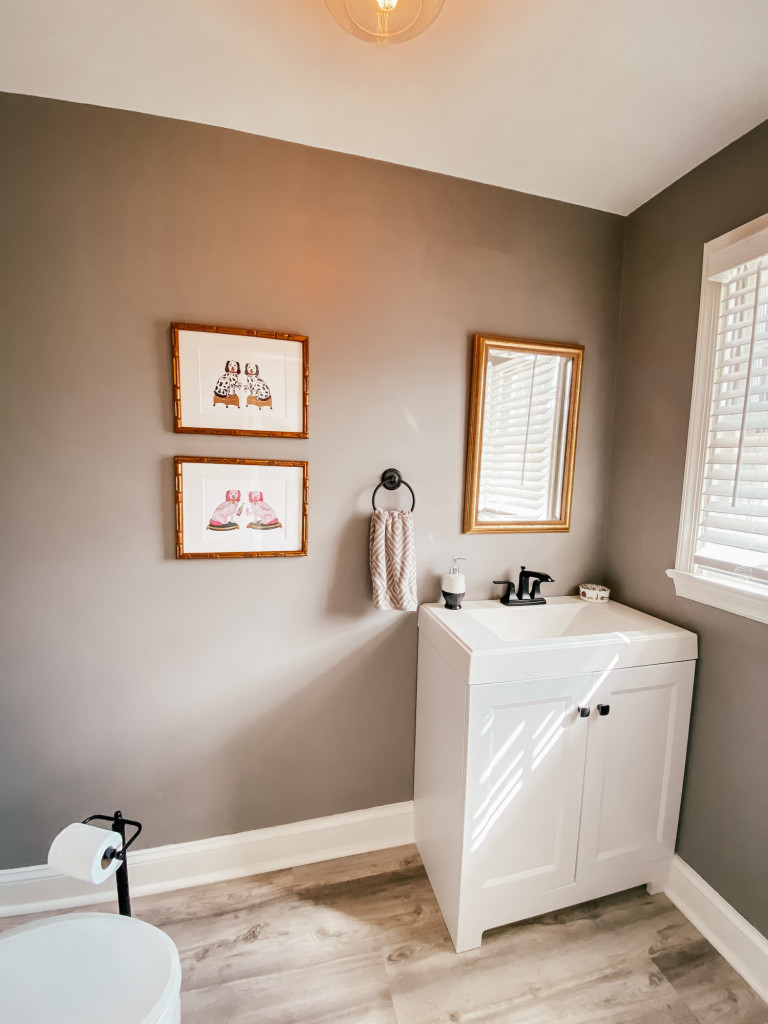 I've shared this bookshelf before (post about it here) but let's talk about it again since it's such a big part of the room! I was wary of keeping it but after a few coats of paint, I absolutely LOVE it. Someone recently commented that it's not much of a bookshelf since I don't have too many books on it, so if you would like me to refer to it as a shelving unit, I hope that pleases you, internet troll.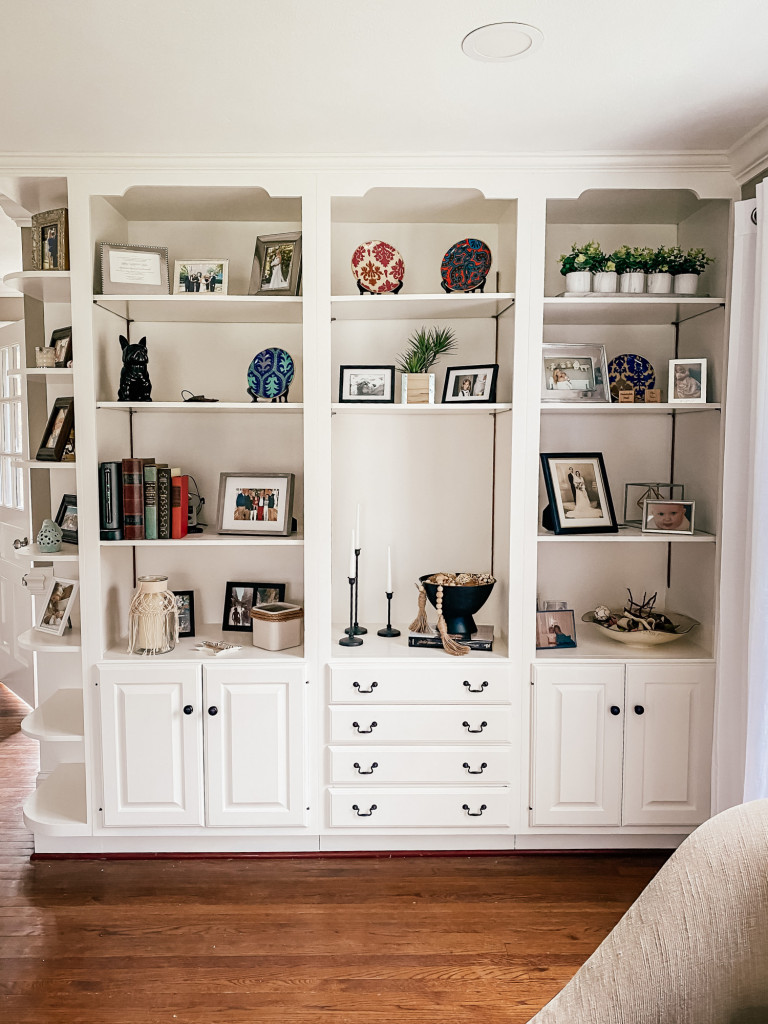 On to the kitchen! We kept the layout of the kitchen but one of the biggest changes was removing the window above the sink and enclosing the back porch to be an all season sunroom.  It's AMAZING how open our house feels now with the extra space in the back.  We also carved out some room for a mudroom so we have an official place to throw all of the muddy shoes and backpacks! The sunroom gets amazing light which oddly enough is very enjoyable for an afternoon nap (literally, an 8 minute nap here and there get me through sometimes) 😉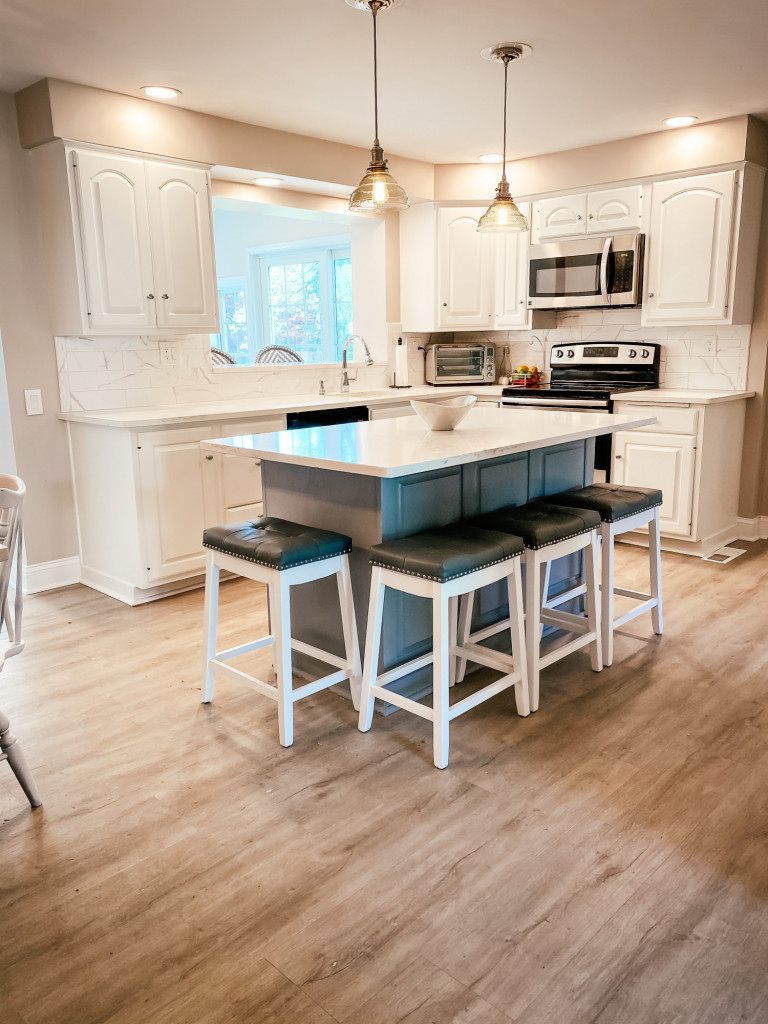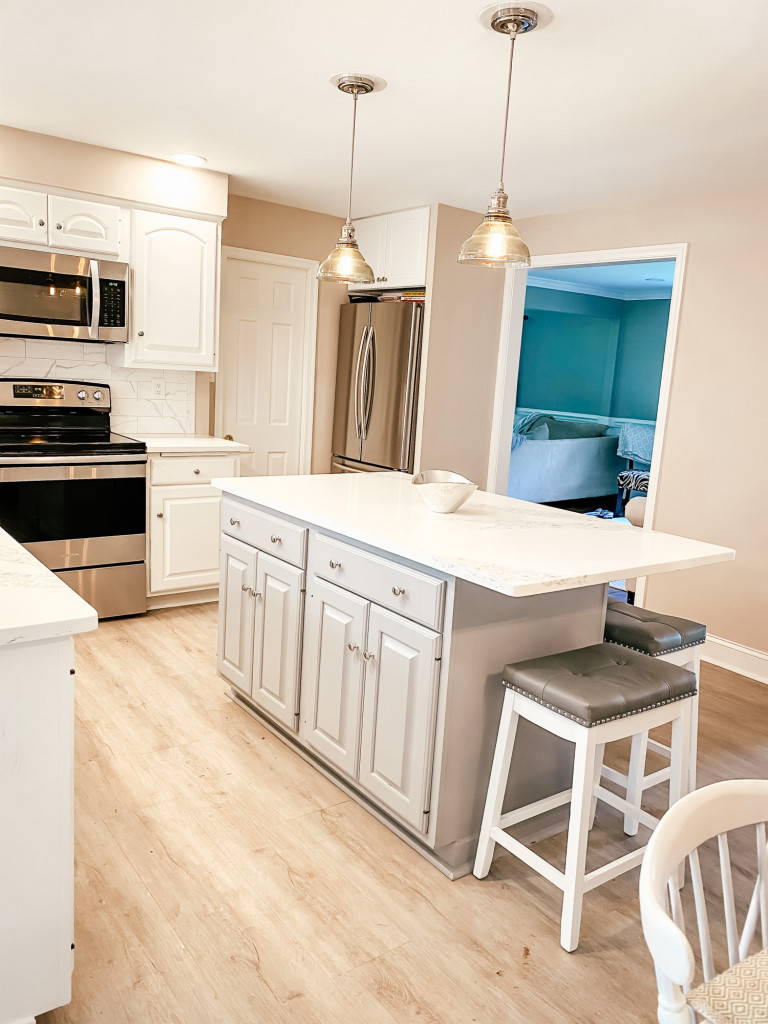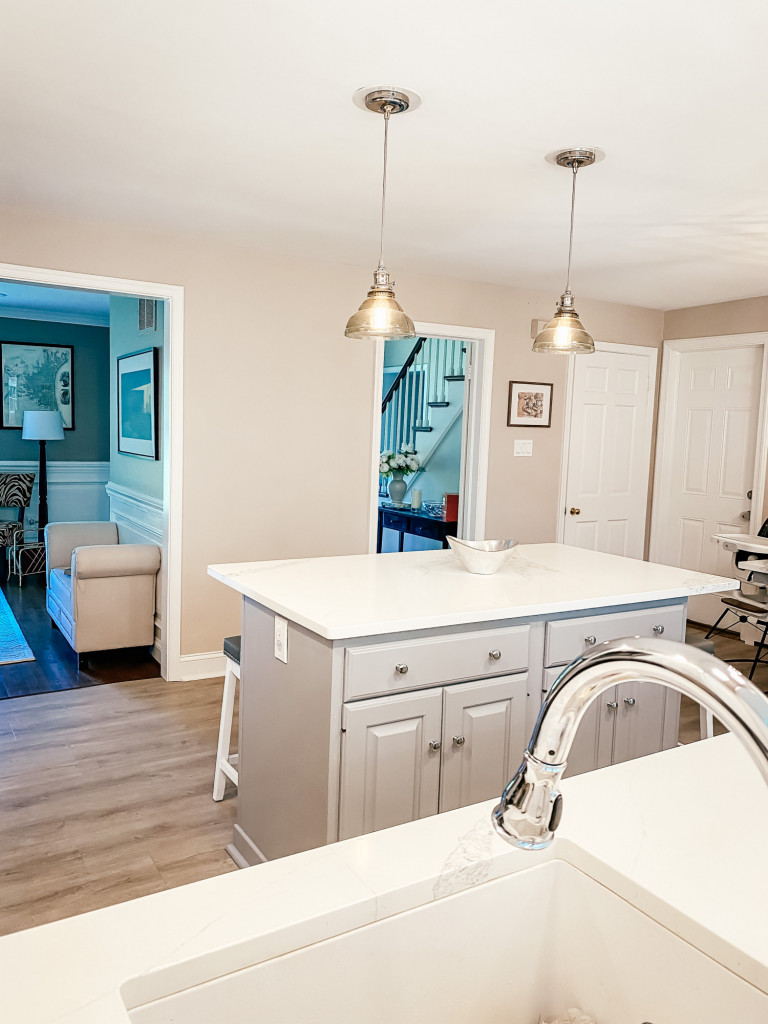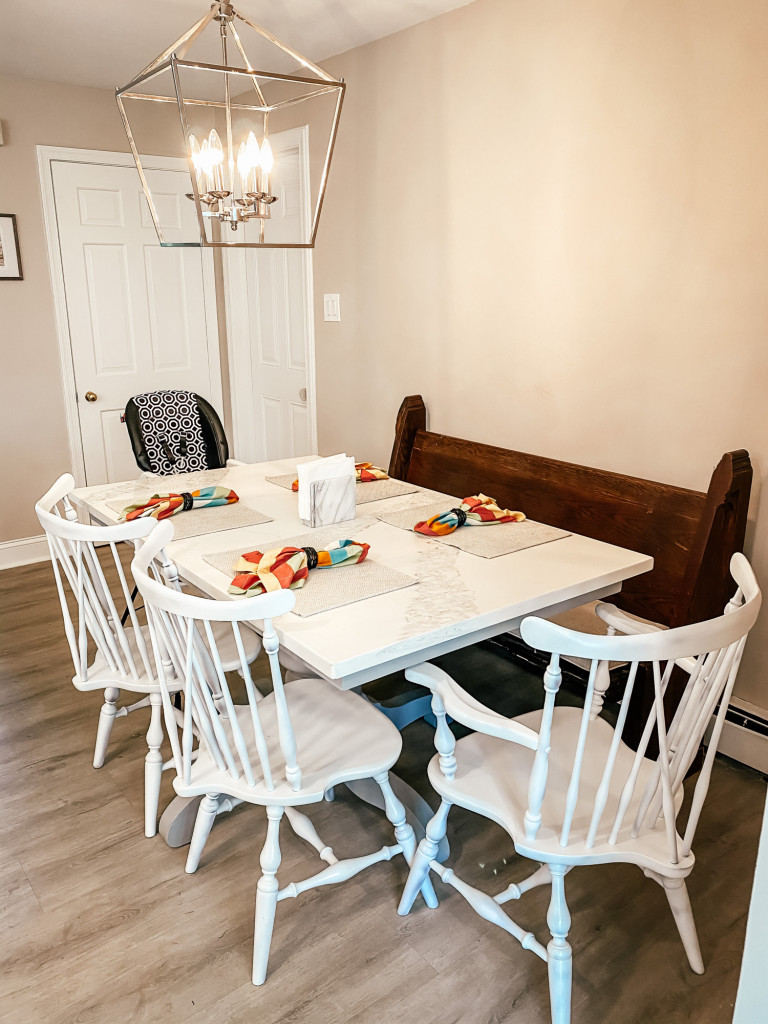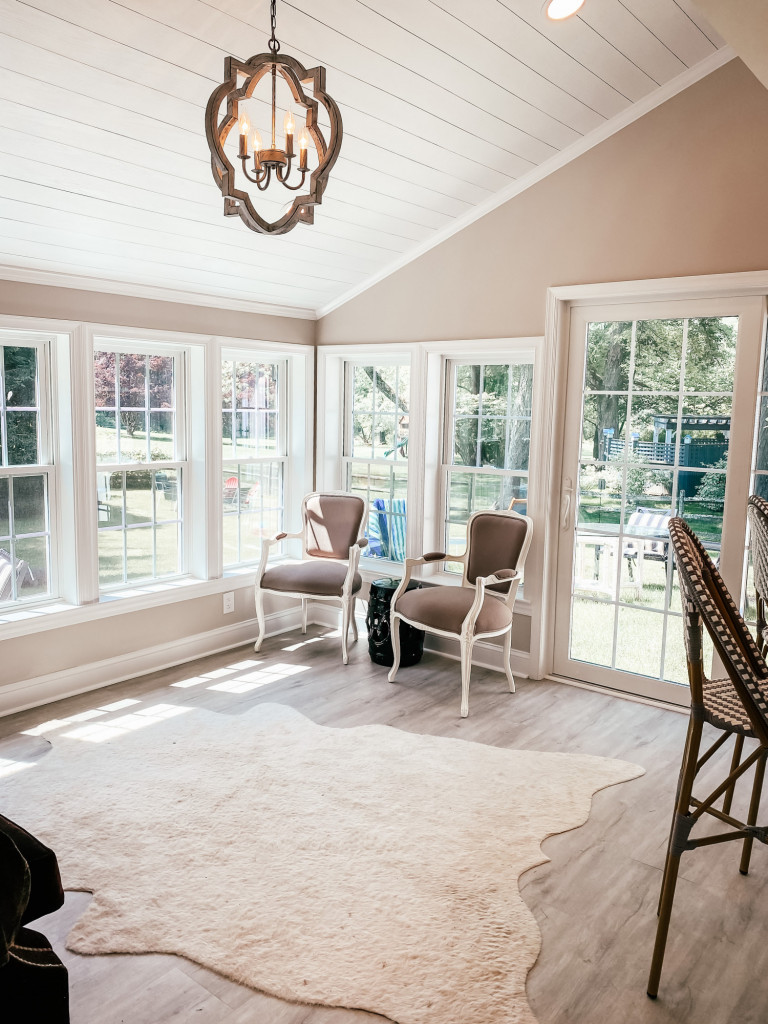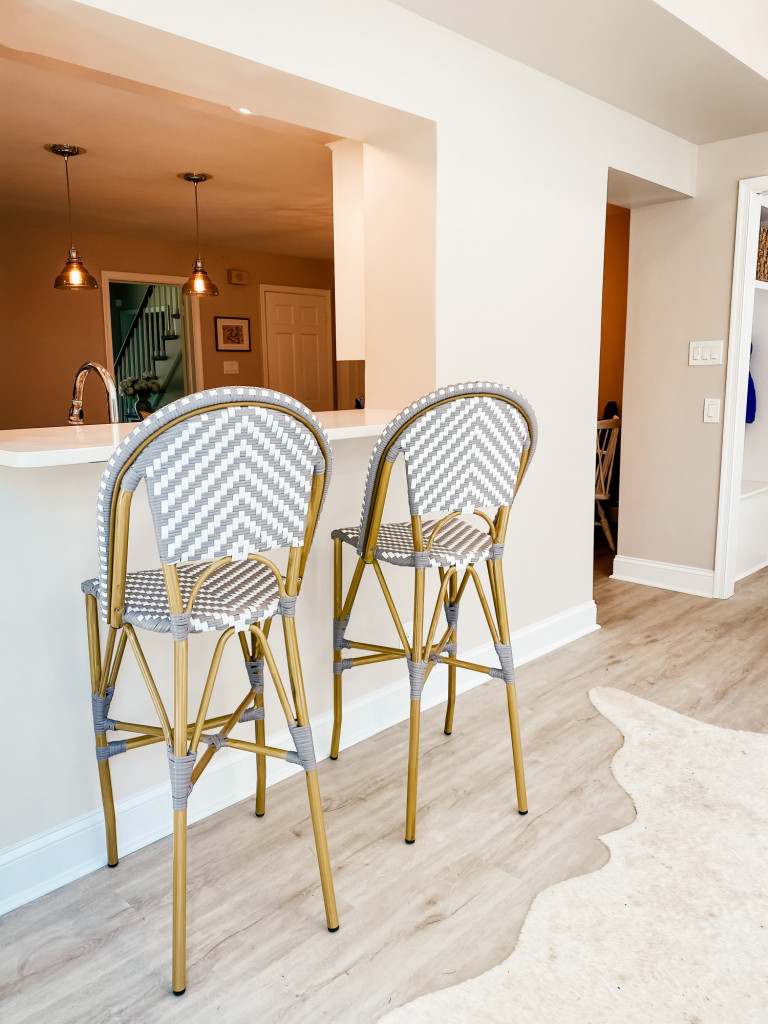 Since we eliminated our dining room, I switched our formal living room into our dining room, which is to the left of our staircase, kind of out of the flow of traffic. This is definitely one of those gated off rooms that has DANGER written all over it for toddlers. I am hopeful in roughly 18 months, I can have my vintage Waterford Crystal out without Nick catapulting it across the room – speaking from experience here 😉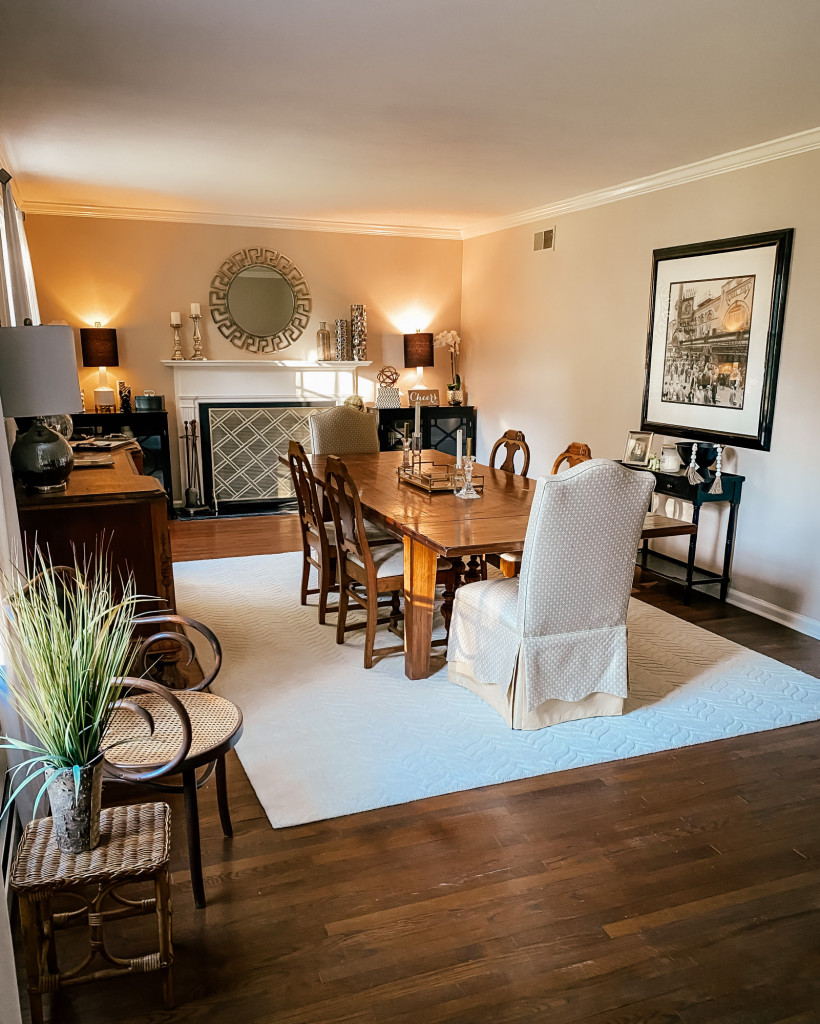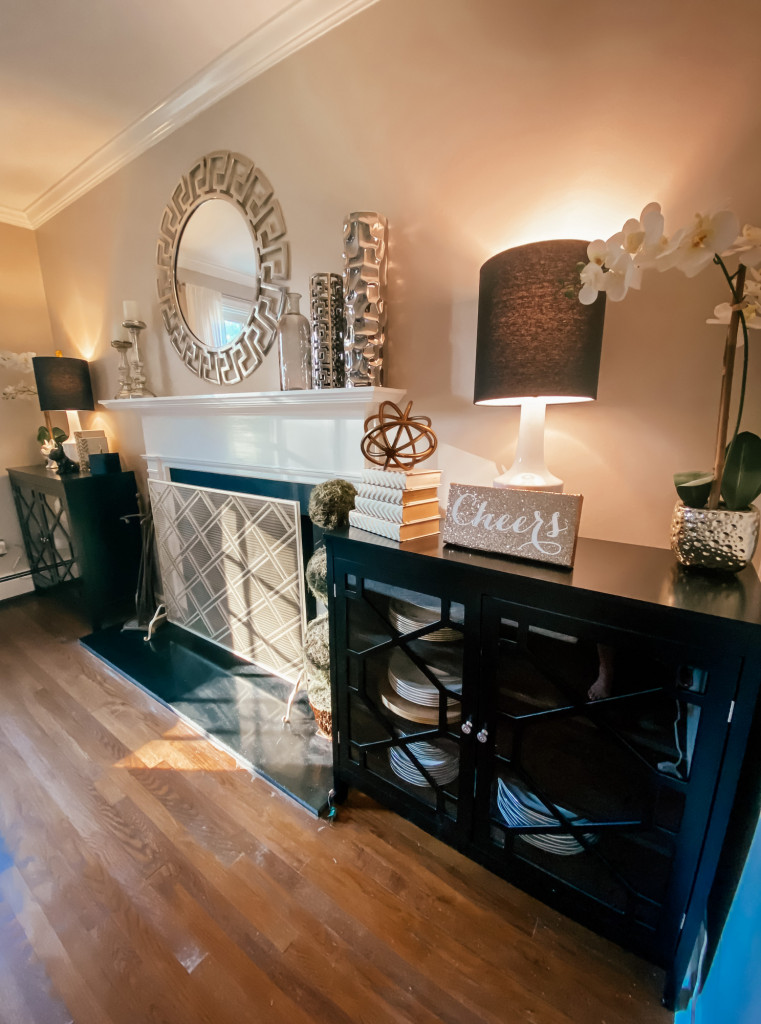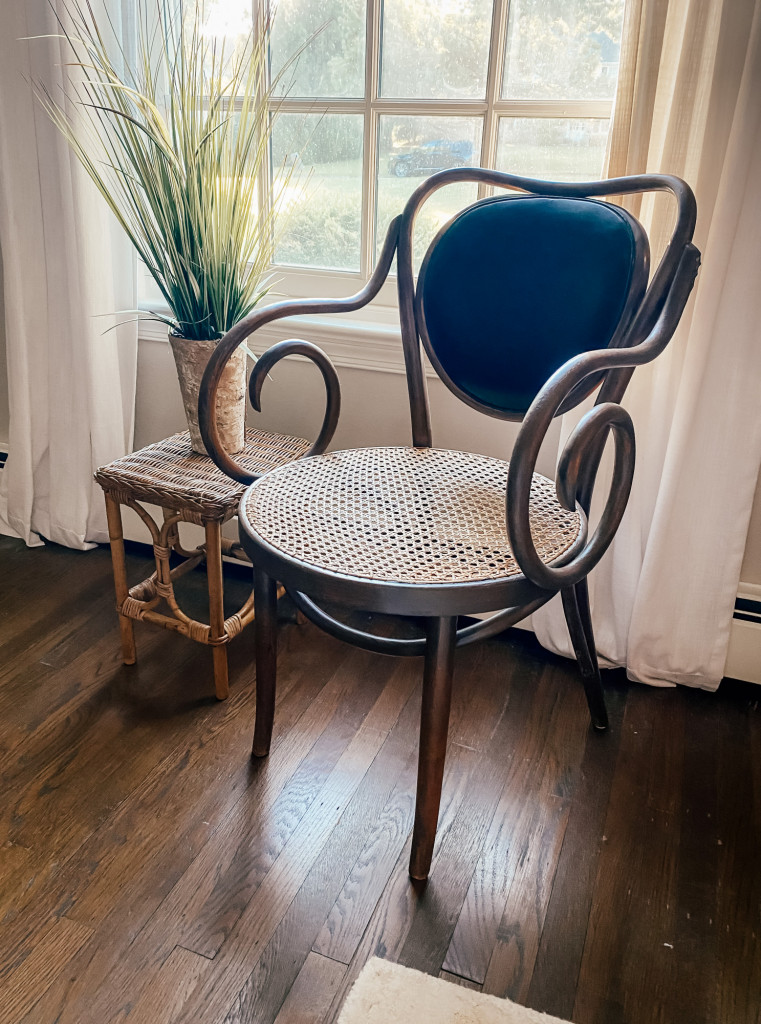 If you follow me on Instagram, you may have seen I swiped this vintage cane chair from someones trash at the end of their driveway! A few coats of stain and I love how it looks in this room!
A lot of houses you may see on Pinterest or Instagram look huge, gorgeous and perfectly staged with fresh flowers and puffed up pillows. My house is hardly that with two young kids but we are beyond happy with how everything has turned out. The flow of the house works for us and the paint seems to hold up against wiping crayon off of it a few times a month! 😉
If you are local, I am happy to share my contractor. Most other items are linked here. If you can't find something you're looking for, let me know!
AND THE MOMENT WE'VE ALL BEEN WAITING FOR… THE BEFORE PICS!